Limits:
15/15
&
2/2
per day
15/15 — Single page analysis limits. 2/2 — Limits of bulk website pages analysis.
Sign up
to increase the limits or check out
our paid plans
SEO website analyzer
Online website check according to 20+ SEO relevance parameters. Multipage semantics analysis, website duplicates check, SSL validation, SEO meta, and more!
Why do you need a free website analyzer
In
2023
, content and its quality play a major role in ranking. Anyone knows how to assess the usefulness of a site to people. But how do you check its
SEO relevance
for Google and other search engines?
The LiftWebsite online SEO-tools is excellent for this purpose. By improving all the indicators, you will raise your resource to the top of search engine results. Growth of traffic to your site will not make you wait long, and with it, the sales of goods and services will increase significantly!
How to easily check SEO relevance
Just enter the site address into the input field at the top of this page and click "analyze". LiftWebsite SEO analyzer will take all the work and open your eyes to the weaknesses of your online web page.
SEO parameters monitoring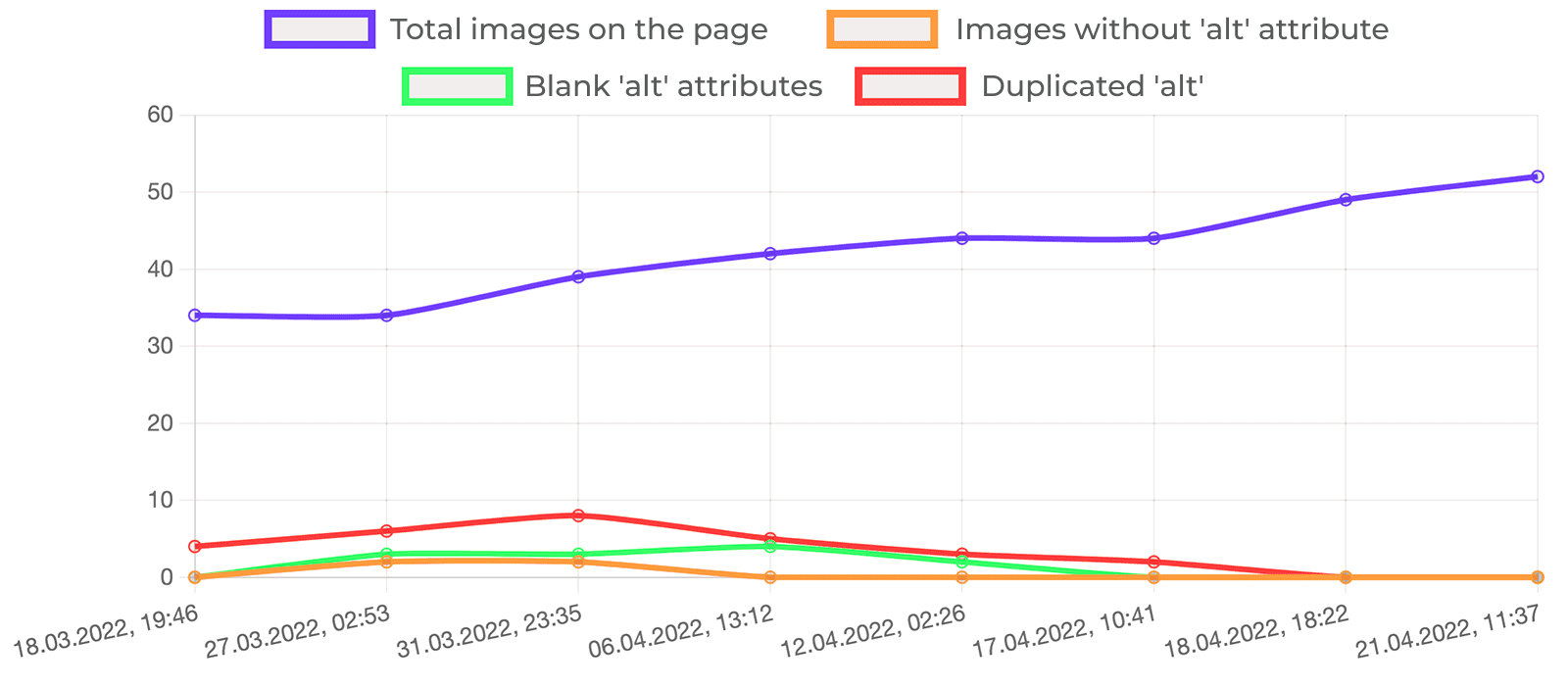 The updates of each site parameter are stored in the database and can be seen in the graphs. That means you can easily track the dynamics of resource development and the impact of changes on positions and traffic in search engines.

A complete website SEO analysis with recommendations will reveal hidden problems, eliminating which you will bring new customers from search engines. This means you will also increase sales.
LiftWebsite Analyzer: free website SEO check
01.

SEO relevance of text on the page

Keywords occurrences in Title, Description and Keywords meta tags. The use of the phrases is also highlighted among the h1-h6 headings.
02.

Search engine view

The number of your website pages in Google search results.
03.

SSL certificate

LiftWebsite analyzes your website's SSL certificate for validity and expiration dates. Most often it needs to be renewed once a year, so keep an eye on the replacement date.
04.

Check website for duplicates

Simultaneous access to a resource from different domains destroys SEO. The Canonical attribute is also checked — it protects website pages against duplication.
05.

Domain age

For comparison with competitors, check the age of the site, the date of creation of the domain and the time of expiration of payment for it.
06.

SEO meta tags correctness

Title, Description, Keywords and their compliance with the standards of SEO promotion and optimization.
07.

Headings h1-h6

Including duplicated website headers and their overlap with other tags.
08.

Texts on the pages

This is an analysis of the length of the text, the time to read it, the number of characters, words and sentences in it.
09.

Semantic core analysis

LiftWebsite service checks how many times which words are used (with percentages). You will also find out the nausea of the text.
10.

Water in the text

The tool analyzes the percentage of water in the text and a complete list of stop words used.
11.

Picture analysis

The pictures and their ALT attributes are checked. Including unfilled and duplicates among them.
12.

HTML code size

Including the loading speed of the site and the size of HTML files in kilobytes. You will also learn the ratio of code to usable text as a percentage.
13.

Scan for viruses

By analyzing your web project, you can, in one click, check the site for viruses according to Google and Yandex databases.
14.

Domain Rank score

This is the Link Mass Quality of your site, measured by the service MegaIndex. The value can be from zero to a hundred, if we are talking about the leading sites in the industry.
15.

Opened 'dofollow' links

The site analyzer checks links to external resources on your pages that are open for indexing. After all, such a step can transfer the weight of the page where it should not be done.
Automated site analysis with recommendations
Have you been familiar with SEO promotion for a long time, or are you just beginning to learn the material? In any case, it is always useful to have recommendations for each optimization parameter at hand when checking the resource.

We have written explanations for all the criteria, so you don't have to look up unfamiliar terms on the Internet every time.

Check website on-page SEO keywords
When creating or refining a resource, it is important to select and use the correct keywords. In other words, make a semantic core. To complete this, identify your competitors from the top of the list and analyze their sites for free.

According to their meta-tags and semantic core, form and supplement your materials.

Full site optimization check
From the results of the LiftWebsite check, you can with one click make an online audit of the neighboring site sections, links to which are in the checked content. This means that it becomes much easier to navigate your site (using internal linking).
SEO analysis of the site in dynamics on LiftWebsite
We store the results of checks, so you can easily track the dynamics of site development. That's why you can view both the current analysis and the previously saved data using the arrow buttons at the top of the results section.
High-speed site check
LiftWebsite team values your time, which means you will see the data of the website analysis instantly without long loading. Also, all the functionality of our project is available to anyone — free online site analysis without registration and requirements to enter your bank card details.
Anonymity
LiftWebsite analysis service does not publish selections of "best" and "worst" results, so you remain anonymous. Among other things, this is why we do not ask for email to access the site check.

In addition, pages with the results of online audits do not get into search engines. This means that when requesting your resource in search engines, customers will not see unnecessary information.
What is the point of site SEO analysis?
A website check will help you find out how well your resource is optimized for search engines. Therefore, you will be able to find out what mistakes need to be corrected so that the site can start bringing in more customers. You will also find out what factors influence the position of your resource in search engines.
How to check website optimization?
To check site optimization, you need to enter its URL in the input field at the top of this page and click "check". If you want to check all pages at once, make sure that the "Check all pages" checkbox is enabled. After that, you'll see the results of the site analysis. To go to the detailed information for each individual page, click "check separately".
How does an SEO website analyzer work and what does it analyze?
An SEO website analyzer is a tool that analyzes various elements of a website to assess its search engine optimization (SEO) performance. Analyzer tool examines:
On-page elements such as title tags, meta descriptions, header tags, and keyword usage
The structure and organization of the website, including the use of URLs and internal linking
The use of images, including alt text and file names
The website's mobile responsiveness and page loading speed
The presence of technical SEO issues such as broken links and redirects
The website's content, including its relevance and quality
The website's performance on Search engine
Once the tool has analyzed these and other elements of the website, it will provide a report or score that summarizes the site's SEO performance. The report will highlight any issues that were found, such as missing title tags or slow loading pages, and also provide recommendations for how to fix them.
It's important to keep in mind that the results of an SEO website analyzer are not the only metric to measure the SEO performance, you should use it as a starting point to identify the potential technical issues and potential improvement opportunities, then it's important to validate these issues by manually checking and testing as well as track your website performance on Search Engine.
---